Coolabah Crisp Dry White and Creaming Soda | Goon Recipe
Coolabah Crisp Dry White and Creaming Soda | Goon Recipe
| Goon Sack Info | |
| --- | --- |
| Amount | 5L |
| Standard Drinks per Cask | 37.5 |
| Alcoholic Content | 9.5% |
| Average Price | $12.99 |
Coolabah, a South Australian favourite. Made in the beautiful Barossa Valley by wine lovers from all over SA. As the name implies it is crisp, dry and white and perfect for the mixing. Whether you consider yourself a Sno-Top kind of guy or a Pepsi kind of girl, I think you will find plenty to enjoy with this wine.
The goon itself was reduced to clear so that was $7 for a whole four litre cask, which is quite impressive if you consider how many standard drinks that is. The Coolabah having 37.5 standard drinks per cask worked out to be about $0.23 cents per drink. I used the old half-half technique – one part goon, one part creaming soda; each drink ended up costing about $0.34.
One great thing about this goon is that the Christmas levels are through the roof. The scent it expels, which I found myself getting the urge to inhale constantly, was the same scent you would expect to smell during Christmas brunch. Another pro of this mix is that it remained carbonated even after being left to settle. So for you fans of flat soft drinks, this isn't the drink for you.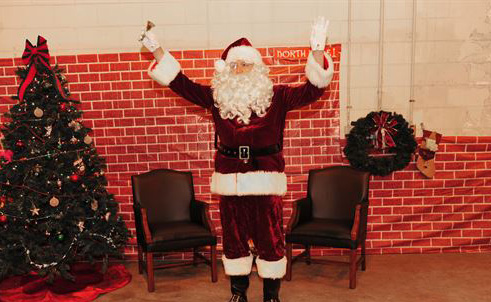 Santa demonstrating how high the Christmas levels were on this goon (real high)
As the goon was a white, it was easily masked by the creaming soda. One thing I noticed was that the crisp tenure of the goon was neither accentuated nor diminished by the creaming soda, instead it stayed consistent.
It gets minus points due to the box having strange photos of men with weird hands and women feeding pigeons. I do not like this. I do not wish to see this while trying to enjoy a glass of Adelaide's finest. Other problems include the sweetness; one or two glasses were fine, but several more and you will feel your teeth start to dissolve in your mouth.
All in all, this is a terrific goon that is best enjoyed with Smiths Originals and backwards caps.
Enjoy.
Coolabah Crisp Dry White and Creaming Soda | Goon Recipe
Coolabah Crisp Dry White and Creaming Soda
Taste

Appearance

Price

Ability to be Mixed
Related Posts via Categories